Who has the time to learn how to love yourself, when you're busy battling mental illness?
If you're anything like me, you let depression and anxiety control the trajectory of your life for way too long.

I was able to take control of my happiness, only after I asked myself this question: Why am I playing small and not enjoying my life to its fullest extent?
It wasn't long before my inner guidance screamed the truth at me... I was choosing to live this way!
---
See, you're in control of your own happiness.
You're in control of your emotions, feelings, thoughts, and ultimately your entire perception of the world around you. So, believe it or not, you're choosing to let negativity get the best of you.
4 Hours To A More Fulfilling Lifestyle™ is an online course dedicated to teaching you radical self-love and how to fall in love with your life through simple mindset shifts.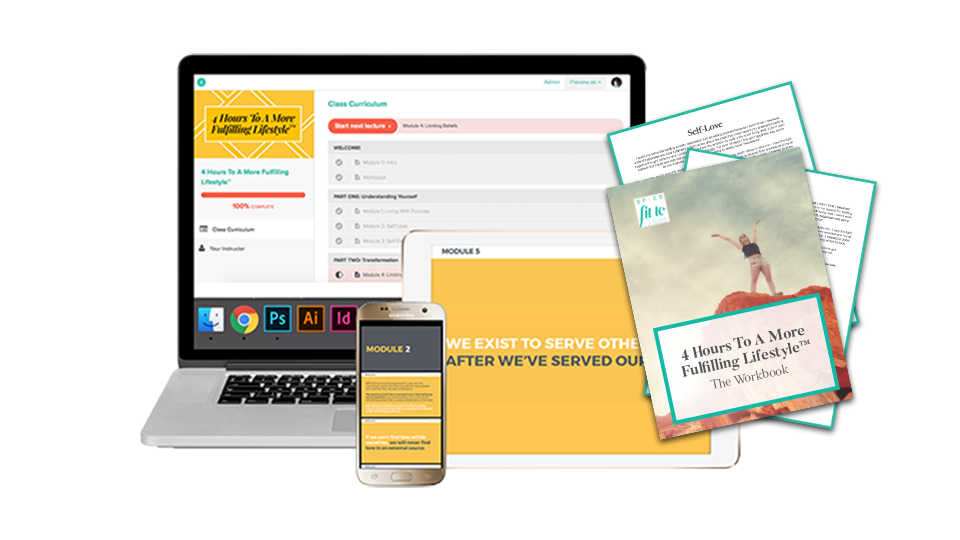 I know you're craving an exciting, powerful, meaningful life! Your only problem right now, is breaking free from your rampant negative thoughts. They're limiting the impact you're making on the world! (Not cool!)
Maybe you're desperately seeking love in all the wrong places. Maybe you're struggling to accept the body god has given you. Maybe you're no longer fulfilled with your 9-5 and all you want to do is shine the light inside of you that you've kept dim for so long!
No matter what it is that you crave, I want you to know that you 110% deserve a life you desire. And I assure you, the life you've been dreaming about, is within your grasp!

Your unhappiness is simply a perception of your experiences.
This perception reflects outward to become what's projected into the world.
As A Course In Miracles states, "Projection makes perception. We look inside first, decide the kind of world we want to see and then project that world outside, making it the truth as we see it. We make it true by our interpretations of what it is we are seeing."
When you enroll in the 4 Hours To A More Fulfilling Lifestyle™ we will uncover what's dwelling in your subconscious mind, allowing for a mindset reprogramming. Just as your IOS system needs to be updated, your mind must download software updates too.
It's time to thrive in life. It's time to accept your unique body, and it's time to change your projection onto the world. There is so much beauty surrounding you, it's time to welcome the gift of receiving.
You're already a fighter with a ton of mental strength, the only piece you're missing is the guide to find what's hiding deep within your mind.
---
Through my personal experience with mental illness I was able to learn and summarize the key elements to finding happiness. I am so excited to share my findings with you inside this course.
Together we are going to manage your thoughts, release your fears and turn your ideal vision of a perfect life into your own reality.
These tried and true methods have been used in my own life along with countless others.

4 Hours To A More Fulfilling Lifestyle™ is a 2-part course and comes with:
Questions at the end of every module

An extra interactive PDF waiting to be filled out by your lovely self

Unlimited lifetime access to all of the course content and every update made along the way

A priceless personal boost from yours truly to help you access life's truest beauty
---
What do other people think about my courses and teaching style? Let's find out:

"Currently completing 4 Hours To A More Fulfilling Lifestyle and finding myself smiling more than I have at all in the past 2 weeks." - Justine McNeil
"Everyone has a story, yet so few share it. Marissa gives you the tools to not only share your journey, but do so effectively. Learn to help others (and yourself) with Marissa's engaging and informative course." - Jeff Fink
---
It's time for you to love the life you're living.