How do you learn to love yourself when you're too busy battling depression, anxiety, or even an eating disorder?
I let mental illness control the trajectory of my life for far too long.

Then one day I asked myself...."Wouldn't it be nice to love the life you have, the body you're in and the world that surrounds you?"
I answered "YES!" and now you can do the same!
4 Hours To A More Fulfilling Lifestyle™ is a short online course that teaches how to radically love yourself and your life by examining your unconscious mind.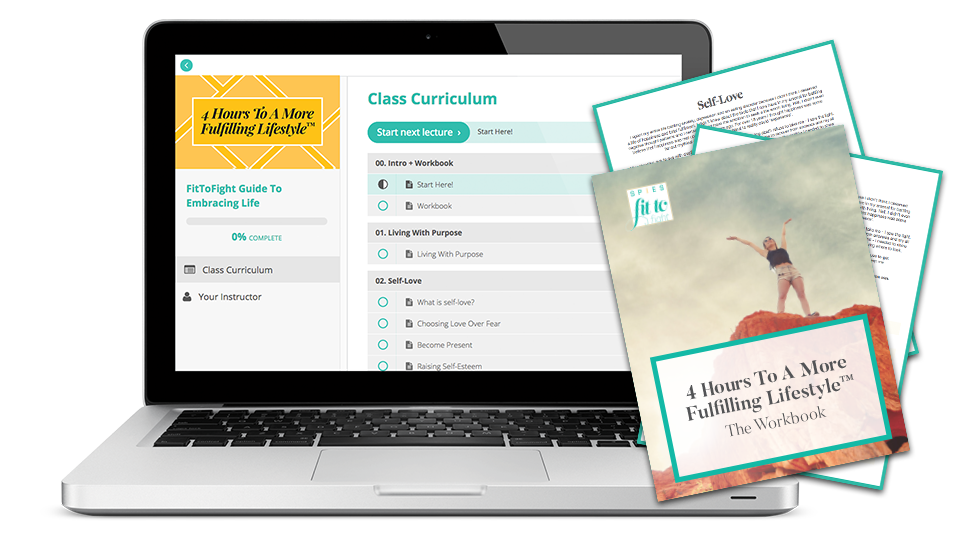 You want to be living a life of limitless happiness, but you just don't think it's possible.
Currently, you could be desperately seeking love, acceptance of your body, time to travel the world or simply to just enjoy your day job. Whichever it is that you desire, I want to assure you that it is in your grasp.
Your unhappiness exists solely in your mind and your perspective on the world.
When you enroll in the 4 Hours To A More Fulfilling Lifestyle™ we will uncover what's living in your subconscious mind so we can reprogram your mindset.

It's time to embrace the life you have, the body you're in and the world that surrounds you.
You already have so much mental strength living within you. All you're missing is the guide to discover what's hiding in the depths of your mind.
Through my personal experience with mental illness I was able to learn and summarize the key elements to finding happiness. I am so excited to share my findings with you inside this course.
Together we are going to manage your thoughts, release your fears and turn your ideal vision of a perfect life into your own reality.
Pretty cool? or pretty scary? This is some life changing stuff so it may excite or overwhelm you. Regardless - I want you to honor your emotions and we're going to find a way for you to embrace life at its fullest potential!
These tried and true methods have been used in my own life along with countless others.
4 Hours To A More Fulfilling Lifestyle

™ contains 3 modules dedicated to helping you analyze what's happening in your subconscious mind.
This course comes with:
An interactive PDF waiting to be filled out by your lovely notes and answers
Unlimited lifetime access to all of the course content
A personal boost to help you access life's beauty
What do other people think about my courses and teaching style? Let's find out:
"Currently completing 4 Hours To A More Fulfilling Lifestyle and finding myself smiling more than I have at all in the past 2 weeks." - Justine McNeil
"Everyone has a story, yet so few share it. Marissa gives you the tools to not only share your journey, but do so effectively. Learn to help others (and yourself) with Marissa's engaging and informative course." - Jeff Fink
It's time for you to love the life you're living.
Enroll in
4 Hours To A More Fulfilling Lifestyle

™ now!